Project Funded!
Elevate Computer Program
Location: Kampala, UG
Budget: $13200.00
Still Needed: $2515.00
Goal: Enable 15 Ugandan Youth to Learn Graphic/Web Design Skills.
How You Can Help:
Small Business Changes Lives!
Scarcity of opportunity to cultivate skills such as graphic and web design leaves young people without hope. In Uganda, students who live in the slums find themselves caught up drugs, violence, and prostitution with no concept of a better life. Small business training and loans opens the door for these students to dream big, set goals, and build a new life!
How Do We Get There?
The Alternativ Global Entrepreneurs course has brought massive life change to many in Uganda and its being paired with tech training from our partners, Era92, to slingshot students into a new life with thriving business opportunities!
The Era92 Elevate program's sole purpose is to empower youths-at-risk in Uganda through skilling them in Design, Arts and Technology, Entrepreneurship, Leadership and Sustainable Development.
By the end of a four month program, each student will have found a client in their specific field and performed a service for them, be it designing a website, a video, screen printing or graphic designing.
Will You Join Us?
Will you facilitate life change for aspirational youth in Uganda? Students need access to the simplest items such as a desk to put their computer on and a business training booklet. Join us in kickstarting hope and a future!
UPDATES
December 4, 2019
The Elevate Training Program just finished. Their final report is an inspiring example of the impact that Skills and Business Training has on youth in poverty
"...our young people are completely transformed, empowered, filled with confidence and ready to start their careers that will transform their lives, families and communities."
Click here to read the full report.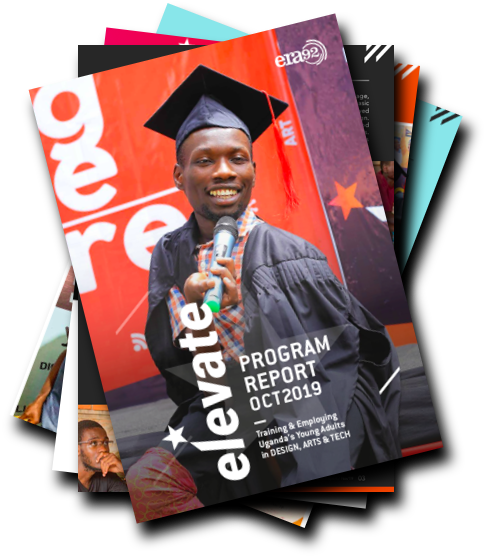 August 16, 2019
92Hands recently submitted this report on the Elevate Program. The impact that skills and business training has on youths in the slums of Uganda is fantastic! Click here to read the new report.
July 2, 2019

With another inspiring testomony from the Elevate program, will you help us complete the funding for this project?
July 2, 2019
Trinity has sent a video testimony of a student in the Elevate program!
July 2, 2019
Trinity, CEO of era92 has submitted his first progress report on this project and it is thrilling!
Donate Now!